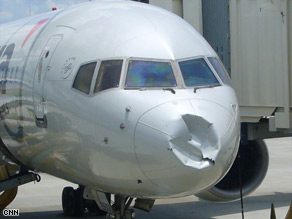 orthwest Airlines is investigating why the nose cone on one of its planes caved in on a flight Sunday from Detroit, Michigan, to Tampa, Florida, a spokeswoman said Sunday.
Northwest Flight 478 landed in Tampa, Florida, at 2:30 p.m. as scheduled, a spokeswoman said.
1 of 2
The damage to the plane occurred during the flight, but didn't affect Flight 478's scheduled 2:30 p.m. landing in Tampa, Florida, said Northwest spokeswoman Kristin Baur.
Baur, who called the damage a "minor maintenance issue" and a "very rare occurrence" said all 182 passengers on board arrived in Tampa safely.
Pictures sold to CNN by a passenger awaiting the plane's next leg, to Minneapolis-Saint Paul, Minnesota, show the nose cone bashed in. Instead of continuing on, the plane was towed away, said the passenger, who was still waiting for a plane five hours later.